Chairmen & Volunteers
Presidents of TRF
2022 Texas Rice Festival President
Tammie Gilfillian
The 53rd Texas Rice Festival President is Tammie Gilfillian. She was born to Alex LeBlanc and Anna LeBlanc. She was raised in Port Neches but moved to Hamshire at the age of 10. She graduated from Hamshire-Fannett High School. She attended the University of Texas where she graduated with a Bachelor of Science in Elementary Education degree. In 1989 she started to work at East Chambers Elementary as a 5th grade teacher. She enrolled in graduate school at Lamar University and graduated with a Master of Education Degree in Counseling and Development. She received her degree in 1999 and then started to work as the school counselor at East Chambers High School. She is currently still in that position.
Tammie is married to Hollis "Peanut" Gilfillian and they reside in Stowell. They are involved in the cattle business and own Fig Ridge Brahmans where they produce registered Brahman cattle. They have two children – Bryce who resides in New York City and Austen who resides in Midland. She is a member of St. Louis Catholic Church in Winnie. She serves on the rice ball committee that is responsible for making and selling the famous rice balls at the TRF. She is also involved in the East Chambers Educational Foundation. In her spare time, Tammie enjoys playing tennis and pickleball.
Tammie has been involved in the Texas Rice Festival for nearly 20 years. She serves as co-chairman of the Grand Parade. She would like to thank all of the sponsors and many volunteers who all work together to make this festival the success it is today. She considers it an honor and a privilege to be part of an organization that gives back to the community and youth of our area.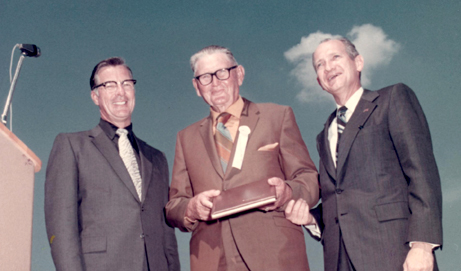 1972 & 1973 Preston Manual
Fannett
1974 & 1975 Melvin Butts
Winnie
1976 & 1977 LeRoy Bauer
Winnie
1978 & 1979 Andy L. Thornton
Winnie
1980 & 1981 Ronnie Girouard
Winnie
1982 & 1983 Kary Kiker
Winnie
1984 & 1985 Tim C. Bauer
Winnie
1986 John Foy
Port Neches
1987 & 1988 Steve Fitzgerald
Winnie
1991 James Gentz, Jr.
Winnie
1993 Larry G. Winzer
Winnie
1995 Arlen Klosterboer
Bryan
1997 Phyllis Girouard
Winnie
1998 David Murrell
Winnie
2000 Carla Thibodeaux
Hamshire
2001 LeRoy McCall, Jr.
Hamshire
2002 Ray Chesson
Hamshire
2004 Melissa Hodges
Winnie
2005 Lilton Sonnier
Winnie
2006 Sandra Burrell
Fannett
2007 Karen Reneau
Fannett
2008 Reid Lowrance
Winnie
2011 Michael Neuman
Winnie
2013 Sissy Leger
Hamshire
2015 Mike Milligan
Winnie
2016 Reid Lowrance
Winnie
2017 Girlean McCall
Hamshire
2019 Stuart Leger
Hamshire