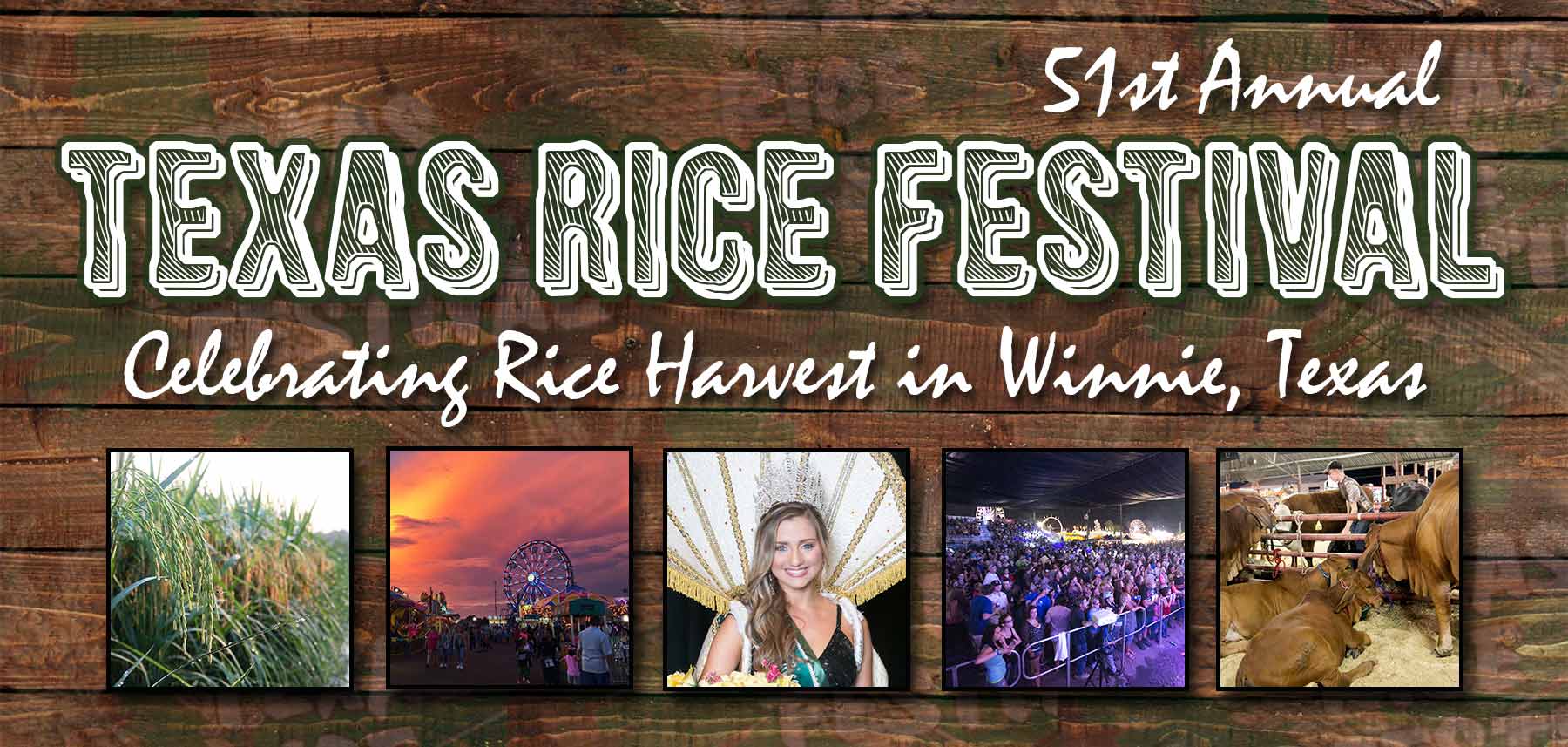 TEXAS RICE FESTIVAL
The Texas Rice Festival takes place at the Winnie-Stowell Park in Winnie, Texas the first weekend of October every year. The festival celebrates rice harvest, and it draws locals from all over Southeast Texas. It is filled with fantastic food vendors, entertainment, and activities for the entire family. 
BBQ Cookoff
Sept 25-26, 2020
(Winnie-Stowell Park)
Main Festival
Sep 30 – Oct 3, 2020
(Winnie-Stowell Park)
Tammie Gilfillian
1st Vice President
Justin Devillier
2nd Vice President
Darrell Guidry
Parliamentarian
2020 Texas Rice Festival
New Board Members were elected to serve a three year term; they include Heather Sumrall, Ann Frugia, Glenn Kiker, Darrell Guidry, Edward Murrell, Kim Ackel, Brad Crone and Cody Bauer.
The officers elected for 2020 are President, Jeff Leger; 1st Vice President, Tammy Gilfillian; 2nd Vice President, Justin Devillier; Secretary, Glenn Kiker; Treasurer, Kelly Alton and Parliamentarian, Darrell Guidry.
Since 2008, the Texas Rice Festival has helped our community in a variety of ways. This was accomplished from the countless hours volunteering.
Scholarships Awarded: $355,370.51
Contributions to Area Youth Project Shows: $121,111.00
Donations to Area Charities: $98,356.05
Improvements to Chambers County Park: $183,363.50.
Total 2008-2019 Contributions: $758,201.06
The Texas Rice Festival thanks all volunteers and members of our community for the support! We are looking forward to 2020.
*** Please note: Both TRF offices were flooded. Please be patient with return calls if you have left messages or emails. ***
You can contact our office with specific questions.