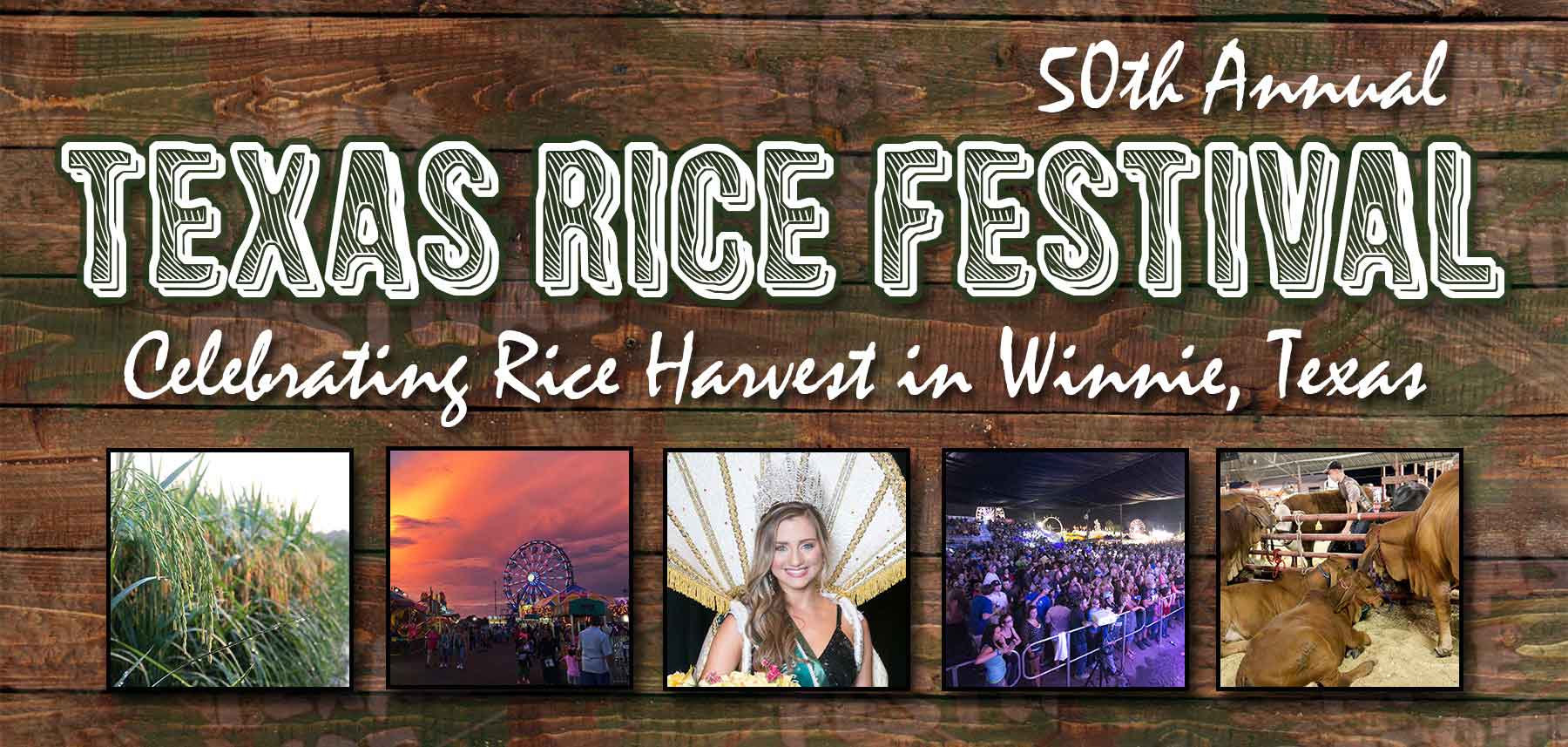 TEXAS RICE FESTIVAL
The Texas Rice Festival takes place at the Winnie-Stowell Park in Winnie, Texas the first weekend of October every year. The festival celebrates rice harvest, and it draws locals from all over Southeast Texas. It is filled with fantastic food vendors, entertainment, and activities for the entire family. 
Open Horse Show
Nov 2, 2019
(White's Park in Anahuac)
Livestock Show
Dec 12-14, 2019
BBQ Cookoff
CANCELLED
Sept 27-28, 2019
(Winnie-Stowell Park)
Main Festival
CANCELLED
Oct 2-5, 2019
(Winnie-Stowell Park)
Jeff Leger
Vice President
Tammie Gilfillian
2nd Vice President
Justin Devillier
Secretary
Kelly Alton
Parliamentarian
50th annual Texas Rice Festival
The Texas Rice Festival board and Chambers County officials met after the flood. Due to the community devastation, they made the decision to cancel the 2019 festival. Please check back on the TRF social media and website for details. Many posts are being made, but all official information will be posted directly by us. The board sees your questions and they will be addressed as soon as they can. Our thoughts and prayers go out to everyone impacted by this natural disaster.
Update: TRF Horse Show, Livestock Show, and BBQ Cook-off may be rescheduled for a future date. 2019 Ride Cards (not gate tickets) that are presented at Market Basket next year during sale dates will be exchanged for a 2020 Ride Card.
Update: TRF Vendor Booth Operators – The TRF will roll booth rentals over to 2020. No refunds will be made. Please contact the TRF office in a couple of weeks to get details.
*** Please note: Both TRF offices were flooded. Please be patient with return calls if you have left messages or emails. ***
You can contact our office with specific questions.