WORLD RENOWNED BUDWEISER CLYDESDALES
The world-famous, eight-horse Budweiser Clydesdale hitch will make a special appearance to celebrate the 50th Anniversary of Texas Rice Festival from September 30 to October 5, 2019.
The Clydesdales are an American icon and one of the world's most recognized corporate symbols. The Budweiser Clydesdales have been the symbol of Anheuser-Busch for more than 75 years. They were formally introduced on April 7, 1933, to celebrate the repeal of Prohibition for beer. August A. Busch Jr. and Adolphus Busch III presented a hitch of horses to their father to celebrate the day. To their father's delight, the hitch thundered down Pestalozzi Street carrying the first case of post-Prohibition beer from the Anheuser-Busch brewery in St. Louis, Mo.
To qualify for a hitch, a Clydesdale must be a gelding at least four years of age, stand 72 inches at the shoulder when fully mature, weigh between 1,800 and 2,300 pounds, have a bay coat, a blaze of white on the face, four white legs, and a black mane and tail. Each hitch horse will consume as much as 20 to 25 quarts of whole grains, minerals and vitamins, 50 to 60 pounds of hay, and 30 gallons of water per day.
Photo opportunities and interviews will be available. Stay tuned for details.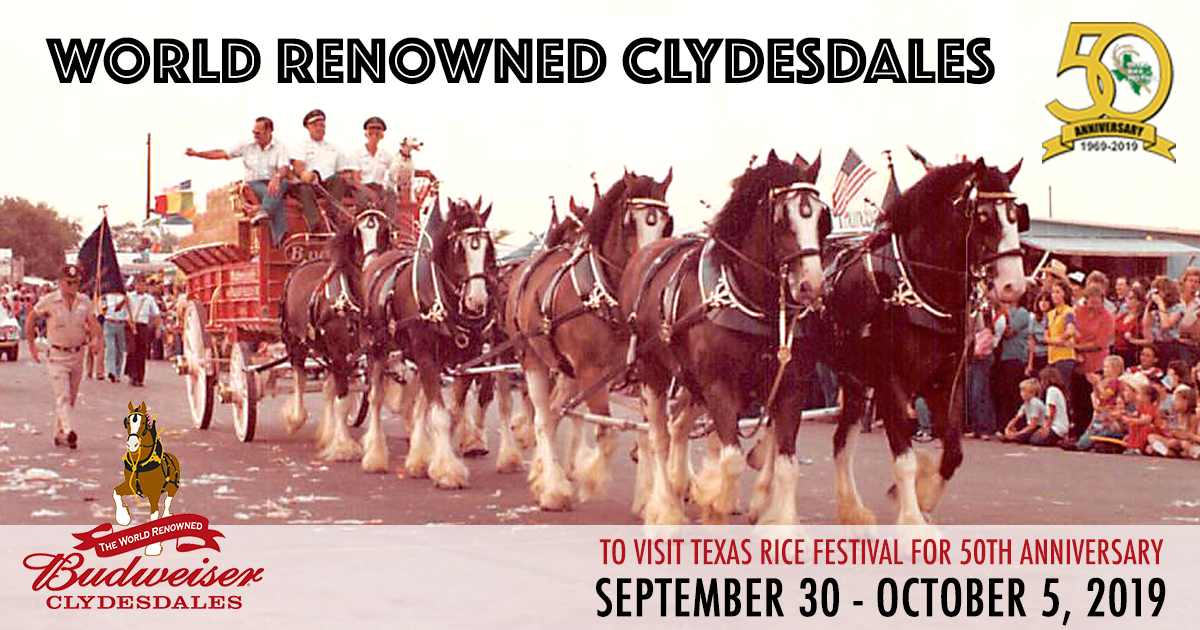 Photo above taken during the 1981 Texas Rice Festival Grand Parade.